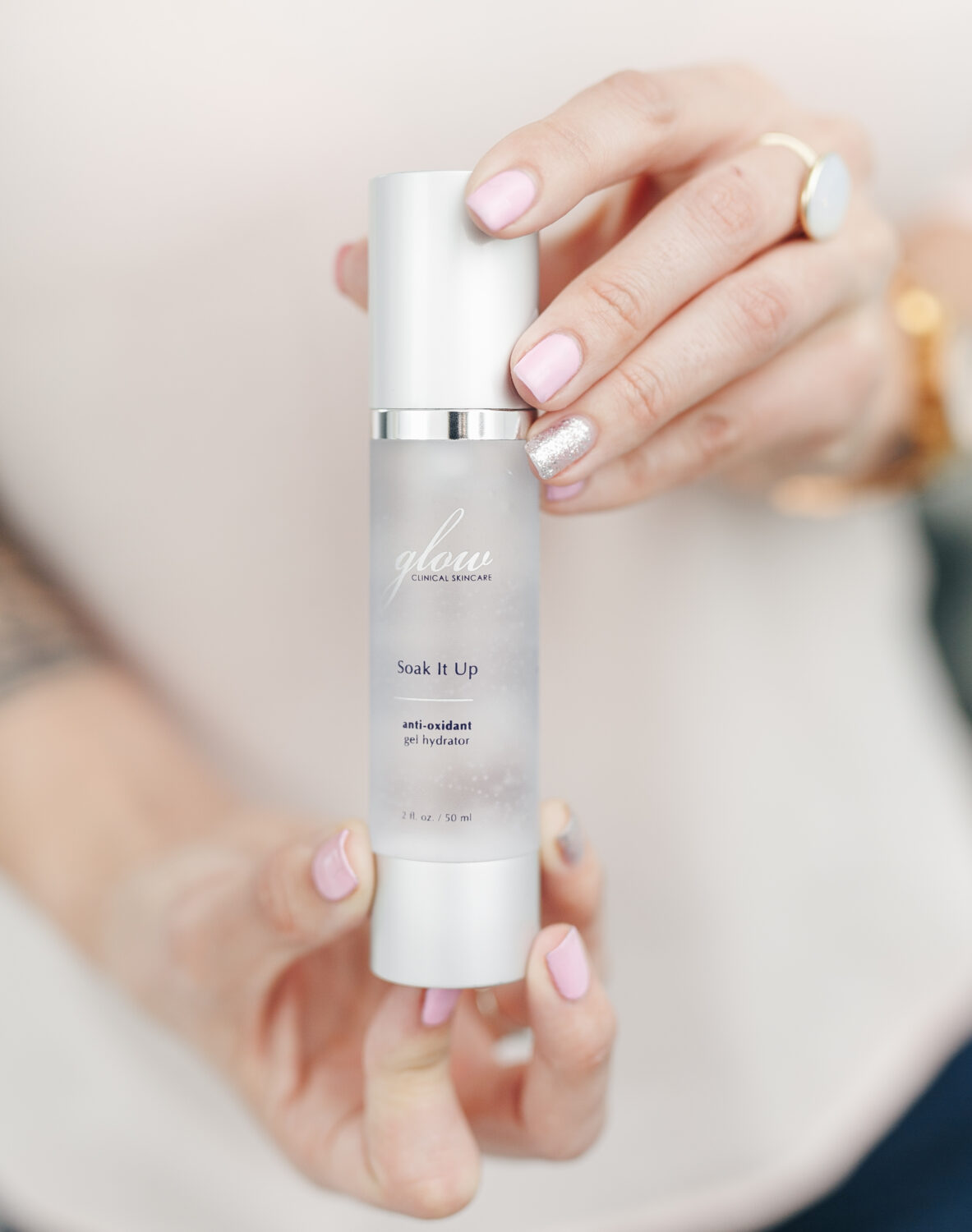 Re-Introducing A New Version of Fan Favorite Soak It Up Hydrating Gel!
Sometimes, other people's solutions just don't work well enough. When you find yourself stuck with one of these pesky problems, you have two options: live with the best solution available, or make something yourself. At Essence of L, we constantly strive to choose the second option whenever we can. Our own clinical line of safe, gentle, and incredibly effective skincare products is slowly growing as a result of this can-do attitude. Whenever we notice ourselves saying "gosh, it would be really nice if there was a product with…" or " shoot….. I really wish this pore clogging ingredient wasn't in here!" we put our thinking caps on and see if we can't come up with a solution that we can offer to our clients.
The Soak It Up hydrating gel from our Glow line is one such product. It's not entirely new, but it has had some tweaks under the hood to make sure it's as safe and effective as it can be. Soak It Up has been carefully formulated to combat the drying effects of common acne treatments while remaining free of ingredients and fragrances that might make you break out. We're thrilled with the list of all-star ingredients that gently moisturize and help your skin maintain its youth.
Soak It Up can be used by anyone, but it was designed with benzol peroxide in mind. Benzol peroxide is one of the more powerful treatment products that we recommend for people with acne. It does a killer job of cleaning up zits, but it has a nasty habit of drying out your skin. Depending on your skin type, this can be a pretty big issue — potentially even worse than the acne itself. Luckily, most people can counteract this drying effect with proper use of a moisturizing product like Soak It Up.
When you're combining multiple topical treatments, it's extra important to make sure that each cream, gel, or lotion you're putting on your face is non-comedogenic and free of irritating fragrances. That's why Soak It Up (and most of our other products, too) has only a few carefully chosen ingredients and is totally free of synthetic fragrances. We get too many people in our acne coaching program who are making their problems worse by using products that clog their pores in their daily skincare/makeup routines. We don't want to add to that number!
In addition to a mix of normal moisturizing ingredients, including aloe, honeysuckle, and camphor, Soak It Up has a few new things that we're extra proud of. These ingredients help your skin fight off damage, regulate natural processes, and even help your skin reverse the effects of aging. Used properly as part of a carefully constructed skincare routine, Soak It Up can have a remarkable impact.
The lilac plant (or syringa vulgaris, if you're talking to someone who wants to sound smart) has been hiding a natural ingredient for many years. Soak It Up utilizes a cell culture extract from the growing tips of lilac roots that's rich in stem cells. This extract can help your skin regulate sebum, which is a pretty big deal for acne sufferers. Research suggests it can help soothe irritated skin, another big plus when used alongside a drying treatment like benzol peroxide.
Antioxidants help to protect your cells from free radicals, a category of dangerous molecules that are linked to aging and other issues. We've included a mix of these powerful protectors, including totarol, a chemical found in the heartwood of towering trees from New Zealand, and phenyl t-butylnitrone, which is a pretty special chemical that traps free radicals instead of destroying them. This helps give your skin cells the room they need to recover and grow.
Finally, sodium hyaluronate has a smaller molecular size than HA making it especially more penetrative and it is able to hold more water than any other natural substance- up to 1,000 times its weight in water! It also tends to make your skin look and feel younger, even as it helps with the oh-so-important function of retaining moisture.
At Essence of L, we really want you to be using the best and most effective products. Soak It Up is the latest re-imagining of one of our more popular and successful products, and it's been carefully formulated to be effective, non-comedogenic, and non-irritating. If you'd like to find out more about how it can fit into your fight against acne, check out our acne coaching program. If you're already using benzol peroxide and you want to give this killer moisturizing gel a try, It's a great compliment to your existing moisturizer that will give your skin the edge it needs to look healthy and great.
Written by Leah LaVanway