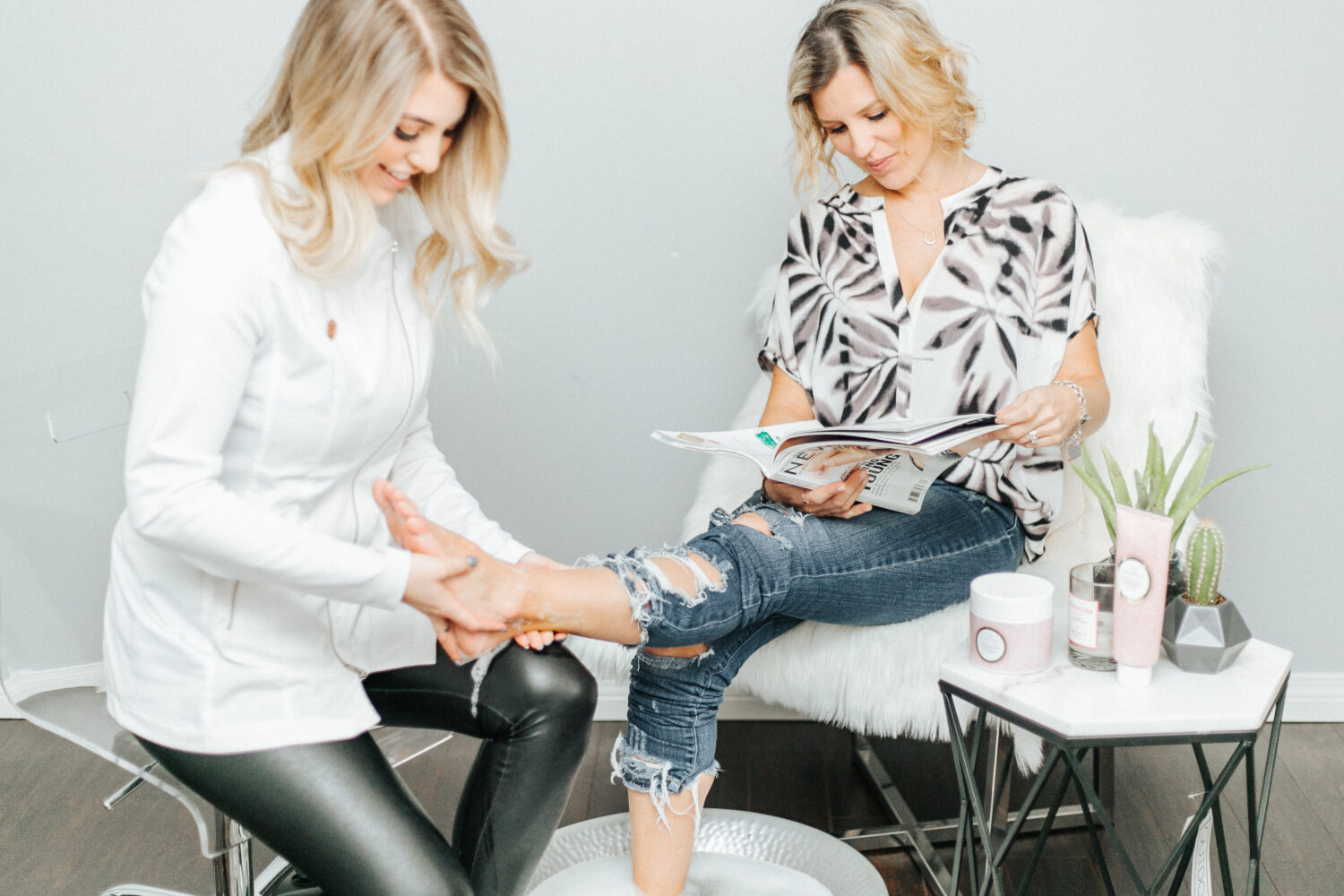 New at Essence Of L Medi Spa: Pedicures from Tracey
Our very own Tracey is now offering Pedicures featuring our new LALICIOUS products!
Our skin needs the occasional scrub down as the seasons change and now is the perfect time to pamper your feet with a sugar scrub at Essence of L! Sugar is the most natural way of exfoliating the skin and the new Sugar Kiss Extraordinary Whipped Sugar Scrub is one of the best products you can use to buff away dry, dull skin from your feet and legs. Sugar Kiss contains pure sugar cane crystals that gently but effectively slough away the roughness of dry skin cells revealing the fresh, soft skin underneath.
The natural glycolic acid in the scrub rejuvenates the skin helping to remove dry skin around the nails and at the back of the feet leaving those areas smooth and supple. With ingredients like Sweet Almond Oil, Vitamin E oil, and Cold-pressed Coconut, it is not surprising that this decadent scrub nourishes and deeply moisturizes your feet, and body leaving them not only feeling deliciously soft to the touch, but smelling great too!
With all our pedicures now featuring the new LALICIOUS products, your days of worrying about cracked feet are gone and dull, dry skin will be a thing of the past. This is your chance to discover soft, beautiful skin with the addictively intoxicating sweet blend of rose, vanilla and citrus. Take your favorite scent home and use from shoulder to toe after your treatment to continue the blissful feeling until its time to come in for your next service.
Do you have "chicken skin" or Keratosis Polaris? (That bumpy, rough, dry texture that some people find on the back of their arms.) The LALICIOUS scrubs work perfect for those who suffer with this! Using a scrub and exfoliating on a regular consistent basis will help reduce the over production of dead skin cell buildup that create that annoying texture.
Benefits of LALICIOUS Sugar Kiss Sugar Scrub
– Great for exfoliating dead skin cells
– Deeply moisturizes and softens skin
– Reveals fresh, youthful, glowing skin
– Soft sweet smell lingers all day
– Paraben-free and contains no Phthalates
– Free of Sodium Laureth Sulfate
– Free of Petroleum & Mineral Oil
– All-natural, gentle formula
This LALICIOUS scrub is amazingly versatile and has multiple uses and benefits. It cleans, scrubs and moisturizes your skin all at the same time. The Sugar Kiss Sugar Scrub is a game changer for pedicures, showers and any of your at home pamper treatments leaving your skin with that velvety soft feel every single time.
Written by Leah LaVanway