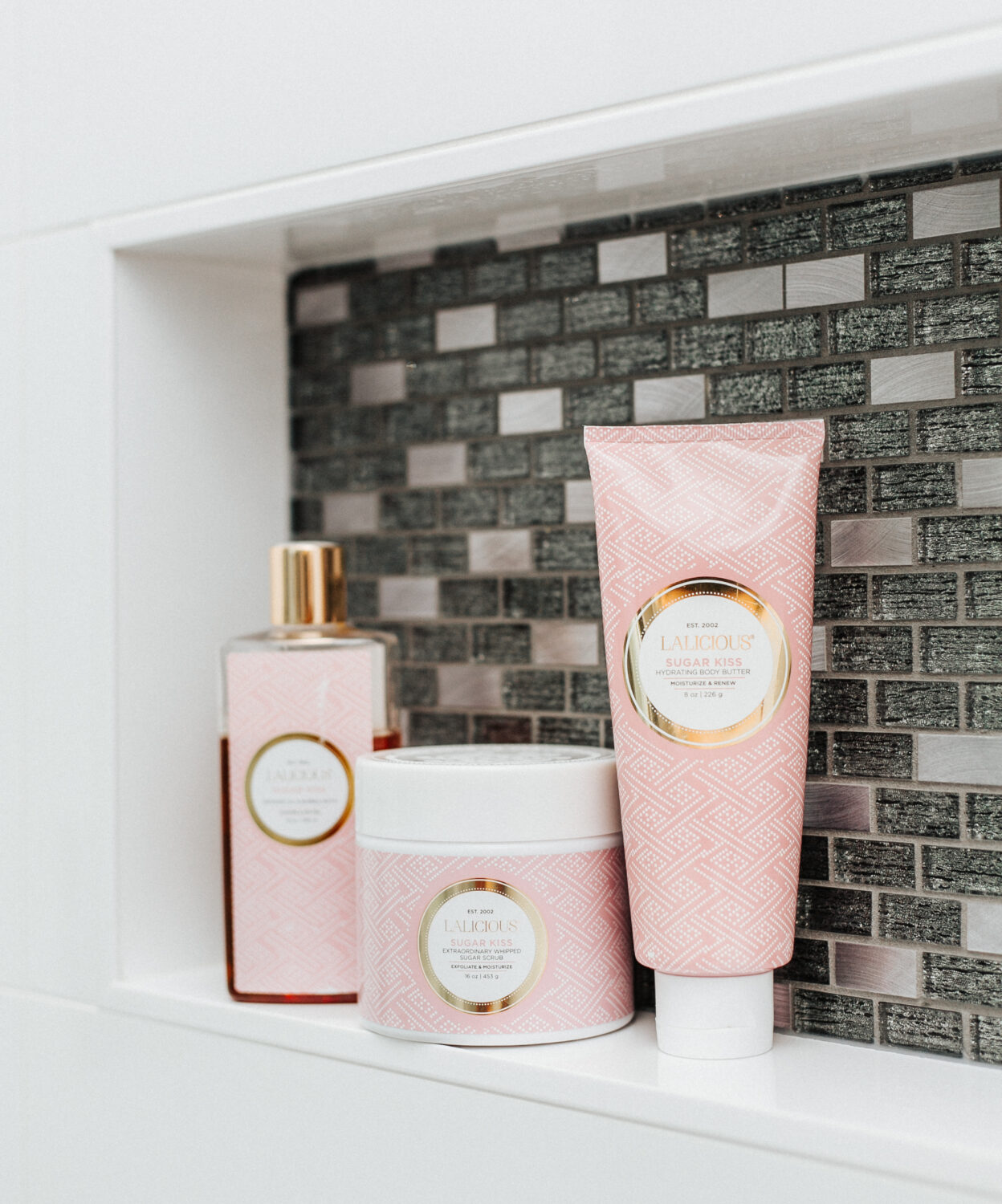 Introducing Lalicous products at Essence of L
At Essence of L Medi Spa, customer satisfaction mixed with the right strategic treatment is crucial. With a wide range of products, ingredients, treatment techniques and world-class care by Leah LaVanway and her team, high quality treatments and customized care is assured. The entire Spa is designed with the customer in mind. With product ranges such as Glow Clinical Skincare, EltaMD, and Jane Iredale, now introducing the body care product line from LALICOUS. This heavenly aromatic line of products have to be experienced to be believed! They exude a beautiful and delicious scent, covering you from head to toe while ensuring natural moisturizing elements for the skin.
Essence of L Medi Spa now carries re-texturizing sugar scrubs, moisturizing hand and body creams, soft to the touch body oils, luxurious bubble bath, and lathering shower oil from LALICOUS. All of these products come in a wide variety of choices and scents to choose from. Soft, moisturizing and properly whipped, these LALICOUS bath and shower treats are the perfect choice to start or end your day. From the busy workaholic, to the calm and collected staycationer, LALICIOUS can make body care simple, easy and an luxurious experience.
The LALICOUS line of products include scents like Brown Sugar Vanilla, Sugar Kiss, Tiare Flower, Lemon Blossom, Lavender, Coconut, Sugar Reef, Peppermint Patti, and Coffee Bean. The ingredients are completely natural and include coconut oil, almond oils and sugar crystals with a blend of mouthwatering scents. The products are free of sulfates, phthalates and parabens. LALICOUS products are designed with natural ingredients and the strict use of quality standards, non-animal testing policy and fully designed and manufactured in the US.
The hand and body creams are beautifully crafted with mango butter to improve body care and nourish dehydrated skin. Their new and improved version is weightless to the touch and designed to absorb quickly to avoid any oily, sticky after feel. Milk Thistle creates a protective barrier over the skin leaving a smooth, and soft texture giving your skin the necessary hydration it needs all year round. The hand creams are small enough to take with you whenever you're skin is craving that thirst quenching sensation.
Experience LALICOUS shower oils that penetrate the skin and provide a tranquilizing experience for the bath or shower. Doubling as a bubble bath, this shower oil transforms into a moisturizing lather nourishing the lipid barrier of the skin leaving you silky smooth. The formulation is designed to heal and soothe damaged skin, making it the ultimate choice to use for shaving purposes. The wide variety of natural fragrances will captivate you as you take that important break in your life to pamper yourself. This carefully selected ingredient list that make up this luxurious body product will provide you with your healthiest skin yet!
The LALICIOUS body sugar scrubs are a game-changer. Made with pure sugar cane, Coconut oil, almond oil and vitamin E this gentle yet effective scrub will slough away dry skin and dead cells to replenish and rejuvenate your body. Away with chicken skin and that scaly feeling! We can change that. Give your skin what it deserves and bring back deep moisture and a smooth, soft complexion with these intoxicating Souffles. Polish, cleanse and moisturize to keep your youthful glow alive!
The last on the list of LALICIOUS products that Essence of L carries is their body melts . All of these products can be experienced at Essence of L Medi Spa's online Glow shop. You can even experience the healing nature and delicious scents of these products first hand in a few of our services including the new and improved Medi-Facials, and our EOL Pedicures.
The vast experience of Leah LaVanway means that clients are in safe hands when it comes to trying out new cosmetics and skin care products. We have your best interest at heart, which is why the team here at EOL will put your beloved products to the test before bringing them in for you to enjoy. With an educational experience in mind, and skin care skills; you will find a great sense of healing and peace at the spa knowing that your best self is here to stay.
The LALICOUS products use ninety eight percent natural ingredients and nature friendly techniques wherever possible. Essence of L Medi Spa is a result driven clinic and strives for only the best quality products and ingredients for their clients. We take skincare seriously and create lifestyle habits easy to welcome into your daily routine and to take home to your family. We dive head first into education, and strict customized protocols so that our clients feel confident in our philosophy. The results speak for themselves! Are you ready for the new generation of healthy skin, self care, out of this world confidence, and the best version of who you are? Take this skin journey with us and send us an email! Our Glow Skin Shop is stocked and ready for you for all your skin health needs. Check out LALICIOUS products today.
Written by Leah LaVanway