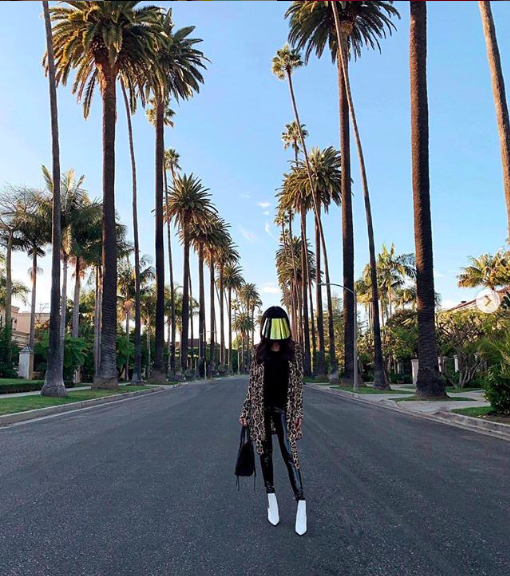 Bluestone Sunshields – A Chic Solution To Sun Protection
We spend a lot of time talking about the sun at Essence of L. Solar radiation will accelerate the appearance of age on your skin, worsen issues like acne, and wreak havoc on your latest clinical treatment. If you want to look your best, you will need a plan to fight off UV light.
Bluestone Sunshields make forming your plan a lot easier. Somewhere on the retro-future side of chic, these bold accessories shield your face with a UV-protected visor that blocks out plenty of harmful radiation. This means you can spend less time and effort re-applying sunblock or looking for SPF makeup and instead focus on other things that matter.
Each Sunshield works via a simple principle: physically block the light. The shield consists of a transparent lens that blocks the passage of both UVA and UVB. It's rated to block 99% of both types of radiation, ensuring your skin stays safe from all of the sun's harmful effects. We admit that the Sunshield can look a bit odd, but when you wear them with confidence they make a pretty unique fashion statement.
The Bluestone Sunshield is for everyday use, in that you can wear it when you're out on the town, enjoying the beach, or trimming the hedges in your backyard. For most of us, it won't be our sunblock solution that we use every day. Instead, you will break out your Sunshield on bright days when you want to be a bit less vigilant with your application of high SPF products.
It's a killer tool for helping people recover from procedures and products that leave their skin extra sensitive to sun damage. Procedures like laser and ingredients like retinol help your skin achieve a youthful glow at the expense of leaving it more susceptible to UV radiation. Wearing the Bluestone Sunshield helps mitigate this problem significantly without forcing you to re-apply your favorite high-SPF products every few hours.
As a skincare professional, that last line is really the kicker. There are plenty of light, and pleasant sunblocks out there that are not that bad of choices to be applying. However, the thing that gets you is the expiration time. Even the best sunblocks will often only last for an hour or two under direct sunlight. Worse, they will often stop working entirely if you get them wet. The Sunshield has no such problems. You slap it on, adjust the neoprene strap to make things comfortable, and go about your day. No swaps or maintenance required.
The Sunshield was developed in Los Angeles, California with celebrities in mind. The full face shields on the longer visors serve the dual purpose of obscuring the wearer from paparazzi and protecting them from the sun. In the skincare world, we can repurpose this feature and use it to keep any redness, or other side effects from your treatments out of the public eye. Most of our procedures at Essence of L have pretty short recovery periods, but that doesn't mean that you won't look a bit red afterward. The Sunshield helps you maintain your privacy while ensuring that the sun doesn't ruin the effects of your procedure.
Since their introduction, the Sunshield has attracted plenty of interest. It's been featured in spreads in international magazines, worn by plenty of actors and models, and recommended by lots of top dermatologists. It was even selected to be part of the 2019 Golden Globes gift bags and given out to nominees, hosts and other celebrities during the evening, giving these noteworthy individuals a great way to seek out a bit of anonymity.
If you would like to have one of these shields for yourself, check out Essence of L's Online Glow Shop and order your favorite style! Alternately, come on in and see these chic face covers for yourself at our White Rock location. They're great at letting you take in the beautiful outdoors with less worry and fuss. We can also talk about any of the procedures we offer that can take advantage of the Sunshield's privacy and sun protection to give you an easy, private recovery.
You can protect your skin in lots of ways, from high-quality natural ingredients to proven chemicals, to simple physical solutions. The Sunshield is a brilliant example of the latter. It's a cool way to block UV light from getting to your face in the first place, enabling you to simplify your skincare routine on sunny days. Give it a look and see what you think, and yes owner/ founder Leah LaVanway of EOL Medi Spa packs it on all of her sunny travels!
Written by Leah LaVanway