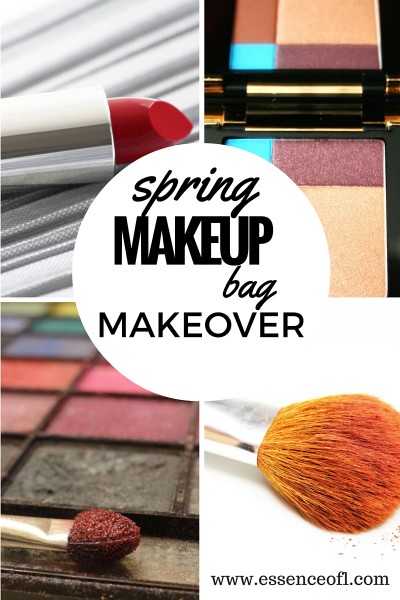 Makeup Bag Spring Makeover!
Your MakeUp Bag Make Over!
-by Leah LaVanway, Medical Esthetician, living in beautiful White Rock, BC.
Our makeup bags are our personal, little arsenals of "feel good" products. We find a blush brand we love, we stay loyal to it. We pride ourselves in the perfect makeup brushes that make for eye shadow and blending perfection. If we misplace one single, essential item, it throws off our entire morning routine.  But when was the last time you gave your makeup bag a good spring cleaning?
Your brushes, applicators and bag itself?  How old is your  mascara? Did you buy that foundation last summer or the summer before? By not keeping your makeup and tools clean, you are at risk for bacteria, increased acne/breakout, risk of infection, herpes or any other horrid virus your makeup & bag can carry around.
Did you know, cosmetics are not required to have an expiration date on their packaging? Some products will have a recommendation of shelf life but otherwise, it is up to you to track them. Use a sharpie to write the purchase date on your items as you buy them to help you keep track of best before dates.
Here are a few more tips for giving your makeup bag a solid cleaning and your makeup inventory a good screening.  Of course your reward to yourself afterwards will be to make room for a sexy new lipstick or brow pencil!
Clean Your Bag – turn your bag inside out and use makeup remover or natural soap to give it a good wash and rinse, leave it to air dry until completely dry. If your bag is fabric (not vinyl or coated), turn it inside out and wash with your laundry.  I would recommend washing it with similar colours.
Inventory Your Makeup – Take the time to go through and toss out your old makeup based on the age rules here:
Powders – 2 years
Cream shadows and blushes – 12-18 months
Oil-free foundation – 1 year
Cream compact foundation – 18 months
Concealers – 12-18 months
Lipstick & lip liner – 1 year
Lip gloss – 18-24 months
Pencil eyeliner – 2 years
Liquid or gel eyeliner – 3 months
Mascara – 3 months
Nail file – 2 to 3 months
Nail polish – 2 years
Clean Lipsticks – Give your lipsticks all wipe with a sanitizing wipe, you can even go one step further by putting your lipsticks in the freezer overnight to kill any bacteria
Spritz Pressed Powders – pour Isopropyl 70% Alcohol into a spray bottle (works best with a mister nozzle) and lightly spritz all your pressed powders to kill any bacteria. Leave them to air dry before closing up lids and compacts.
Wash Makeup Brushes – Give your brushes a bath by swirling them in a gentle, natural soap and water mixture.  For synthetic brushes, use dish soap, like Dawn, which helps cut through the cosmetic oils and silicones used in makeup that can be hard to get out. If you like, you can mix a couple drops of tea tree oil with the soap for antiseptic benefits.  Wash the bristles gently, working the lather into the bristles but maintaining their shape and direction. Do not go against the bristle direction or you may damage or break the strands. It is important to let them dry naturally and standing up so the shape is restored. You can also condition your natural hair brushes with hair conditioner and leave them to soak it in for an hour or so. Wash your makeup sponges at least once a week.
Tools & Hardware – Use your isopropyl alcohol and Q-tip cotton swabs to clean your pencil sharpener, eyelash curler, nail clippers, scissors, cuticle clippers, nail files etc.
Now that you have cleaned your brushes, sanitized your luscious lipsticks and tossed out your stale dated foundation and eye shadows, why not pamper yourself at our upcoming Bubbles & Glow Spring Fling Makeup Event!  Just in time to pick up some fresh new lovelies for your sparkling, clean make-up bag!
What is our Bubbles & Glow Event?
Choosing the right blush and bronzer is just as important as choosing the right foundation. In this intimate setting you will learn how to choose the best formula, finish and depth to bring brightness to the face and define its shape. We will discuss and review the features of the face and how to easily highlight and contour to enhance your features. We will also help you find the perfect lip product! With so many choices to choose from, we'll help remove the guess work by highlighting the features and benefits of each of our lip products. See you there!