Learn how to apply Jane Iredale Glow Time BB Cream in three different ways to create different coverage!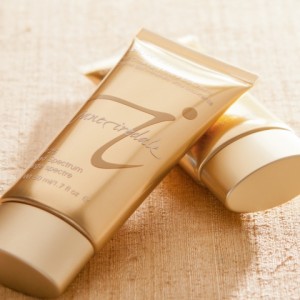 Glow Time is jane iredale's highest coverage foundation. It also provides Broad Spectrum SPF 25 and UVA P++ protection that is water resistant for up to 40 minutes. This is the highest SPF rating of all our foundations. Glow Time is available in 6 shades: BB1 (Fair), BB3 (Light), BB5 (Light to Medium), BB7 (Medium), BB9 (Medium-Dark to Dark), BB11 (Very Dark). It is full of natural extracts that help cover blemishes, minimizes pores, disguises wrinkles and smooths and brightens skin. It is also non-comedogenic, hypoallergenic, sensitivity tested, clinically tested, dermatologist tested- so you can wear this with full confidence. Here is some more info on those hero ingredients and what they do:
Grapefruit Extract promotes luminosity and skin radiance, minimizes appearance of pores and wrinkles, and may help to fade uneven pigmentation.
Apple Extract is a skin-smoothing antioxidant that exfoliates, refines and rejuvenates the skin.
Sunflower Seed Oil is rich in moisturizing vitamin E.
Aloe Leaf Juice soothes and calms the skin.
I Love the Benefits……. But how do I apply It?
1. Full Coverage
Start by priming and moisturizing your skin using Smooth Affair Facial Primer.
Squeeze a pea size amount of Glow Time BB Cream onto your fingertips.
Using your three middle fingers from each hand, gently rub your fingertips together so that the BB Cream is spread evenly on all six fingers.
Now, begin gently tapping your fingertips all over your face.

2. Medium Coverage
Start by priming and moisturizing your skin using Smooth Affair Facial Primer.
Spritz your Flocked Sponge 2-3 times with your favourite Hydration Spray, I love POMMISST.
Apply a pea size amount of Glow Time BB Cream on the spritzed area of the Flocked Sponge.
Gently apply to your face using the sponge in gentle downward motions and blend well. Don't forget your jawline and neck!
If you still need a little extra coverage in some areas, gently pat the sponge over them.
3. Sheer-Medium Coverage
Apply a pea size amount of Smooth Affair Facial Primer to your pointer fingertip.
Apply 1/2 a pea size amount of Glow Time BB Cream to the same finger tip.
Smear your fingertips together and gently rub on your face. You will still get all the benefits of both Smooth Affair and Glow Time but with a finish that is more similar to a Tinted Moisturizer.
Glow Time can also be used as a concealer by applying a little extra to any area that needs more coverage because of how pigmented this foundation is. The finish of Glow Time is very luminous, so if you have oily prone skin or prefer a
more matte look you may choose to apply a thin layer of PureMatte Finish Powder.
The best part about makeup, is that there really aren't any "rules"! So celebrate your creative freedom and try different application techniques until you find the one that works best for you. Then please come back and share because we love to hear what you've discovered!