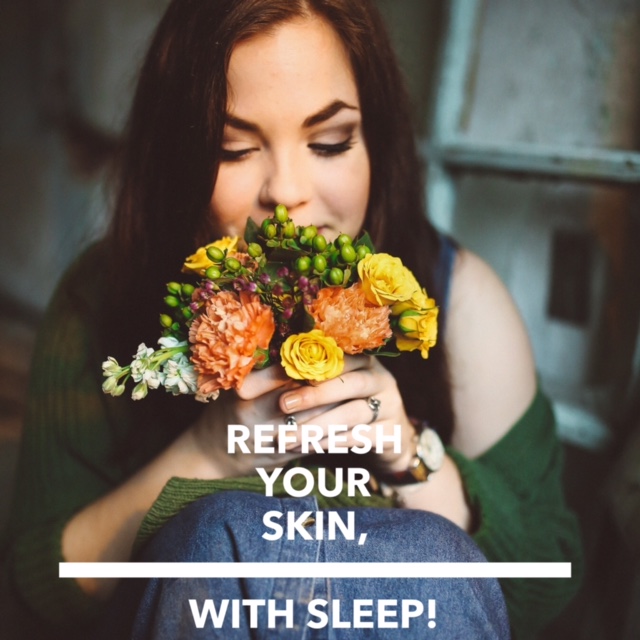 Sleep Your Way To Great Skin!
How Much Does Sleep Affect Your Skin? 
-by Leah LaVanway, Medical Esthetician, living in beautiful White Rock, BC.
We know we look and feel better after a full night of sleep but does sleep really affect our skin on a physical level? Experts agree wholeheartedly that yes, sleep (or lack of it) will take a toll on your skin.
A clinical study commissioned by beauty industry icon, Estée Lauder found that poor sleepers had increased signs of skin aging and slower recovery from a variety of environmental stressors, such as disruption of the skin barrier or ultraviolet (UV) radiation. Poor sleepers also had worse assessment of their own skin and facial appearance.
The research team, led by Primary Investigator Elma Baron, MD, presented their data this spring at the International Investigative Dermatology Meeting in Edinburgh, Scotland in an abstract titled "Effects of Sleep Quality on Skin Aging and Function."
"Our study is the first to conclusively demonstrate that inadequate sleep is correlated with reduced skin health and accelerates skin aging. Sleep deprived women show signs of premature skin aging and a decrease in their skin's ability to recover after sun exposure," said Dr. Baron, Director of the Skin Study Center at UH Case Medical Center and Associate Professor of Dermatology at Case Western Reserve University School of Medicine. "Insufficient sleep has become a worldwide epidemic. While chronic sleep deprivation has been linked to medical problems such as obesity, diabetes, cancer and immune deficiency, its effects on skin function have previously been unknown."
The researchers found:
Good quality sleepers recovered more efficiently from stressors to the skin
Healing from sunburn was slower in poor quality sleepers
Poor quality sleepers were significantly more likely to have a higher Body Mass Index (BMI)
23% of good quality sleepers were obese compared to 44% of poor quality sleepers
Self perception of attractiveness was significantly better in good quality sleepers
Poor sleep quality can accelerate signs of skin aging and weaken the skin's ability to repair itself at night," said Dr. Daniel Yarosh, Senior Vice President, Basic Science Research, R&D, at The Estée Lauder Companies. "These connections between sleep and skin aging, now supported with solid scientific data, will have a profound effect on how we study skin and its functions. We see these findings as yet another way we can direct our scientific research toward the real needs of our customers who want to look and feel their best."
Sleep Position Makes A Difference As Well
However well you sleep, you may still wake up with puffy eyes and dark circles if you are sleeping in an awkward position. These problems are caused by constriction of the blood flow to the skin.  If you sleep face-down the blood vessels will become constricted and the circulatory system releases congested fluid from tiny flaps in the walls of these vessels,' says Cosmetologist, Colette Haydon
The dark circles are actually tiny blood vessels 'pooling' under the thin, delicate skin below the eyes. The older you get, the longer they take to disappear; and you may notice more lines forming permanently on the side of the face you normally sleep on. This is because as we age, our skin loses elasticity and collagen, and doesn't 'bounce back' into shape.
The answer is to try to train yourself to sleep on your back. You can also help to prevent fluid accumulation causing puffy eyes by keeping your head raised well above your body in bed. This may be difficult at first – but it's worth it.
Not enough oxygen in your bedroom affects blood flow to the skin, causing puffiness. Make sure the room is not too warm – switch off the heating, and open a window.
Finish Your Night With A Serum
Cellular renewal of our skin is fastest at night, and this is why we are told night-creams can work wonders. However good a beauty product might be, the effect will be negated if we have endless late nights, or poor-quality, interrupted sleep. These creams generally have a softening water-in-oil base, and contain nourishing ingredients.
Cosmetologist Colette Haydon says: 'Applying night-cream just before bed means your skin will get the most benefit when the absorption of nutrients is at its peak.
'Your cream should be nourishing, but not thick and rich. You can gauge if it is the right consistency by feeling your skin 15 minutes after application – you should still be able to feel the 'slip of the cream, but not otherwise be aware of it.'
A cream that is too rich and clogging can cut the skin's oxygen supply, contributing to poor micro-circulation and puffiness, particularly around the eyes.
Night-creams or rich serums containing anti-ageing compounds to repair and firm the skin can be particularly effective.
Looking for a quality serum? Check out Glymed Stem Cell Serum and get a good night of sleep!
---