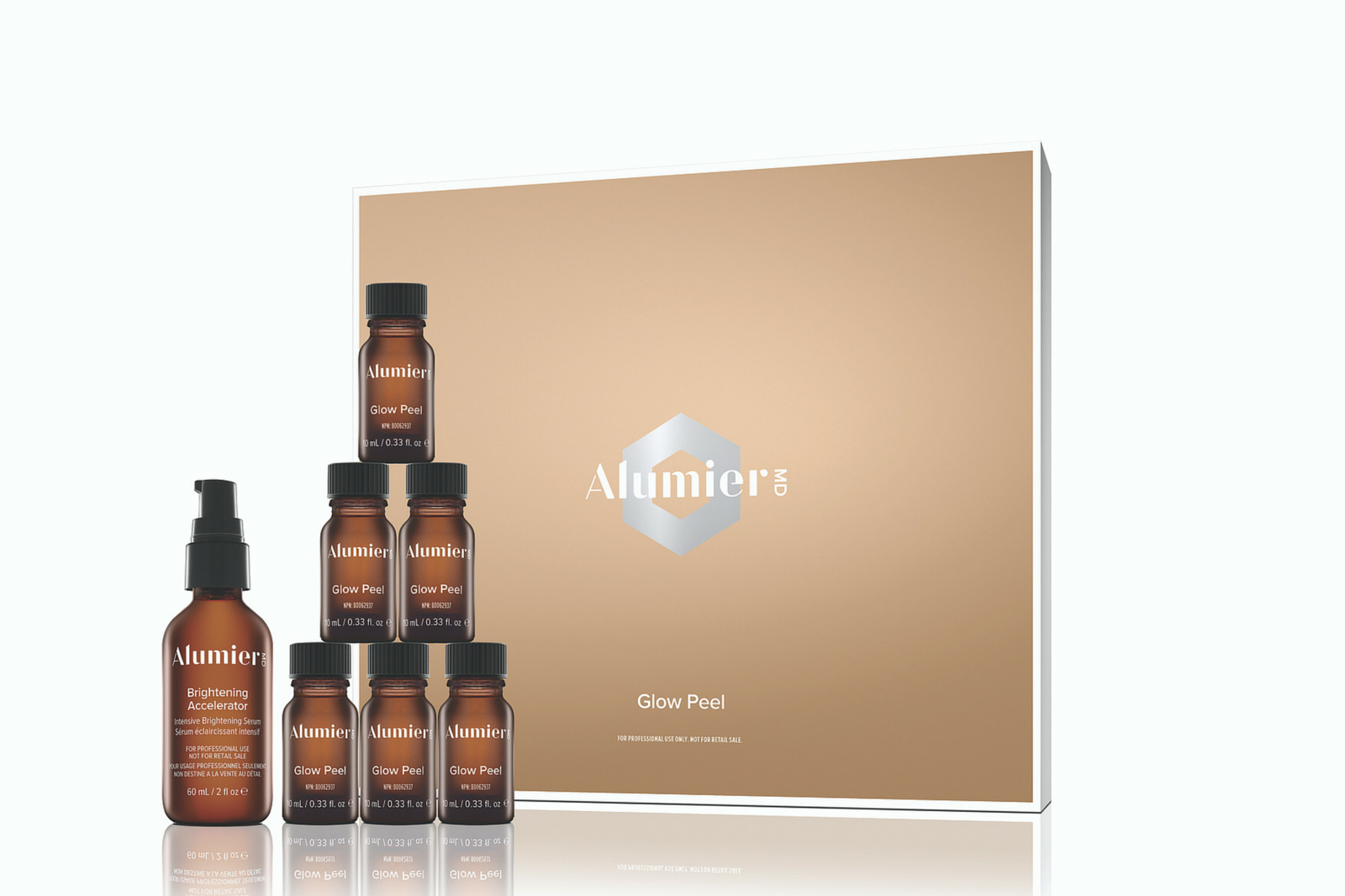 It's Peel Season: Introducing Alumier MD Glow Peel
For years the word "peel" meant that you spent too much time in the sun without sunscreen and are now suffering from the not-so-attractive consequences, or that you did a chemical peel treatment and are now waiting for your "new" skin to appear while hiding from friends and family. Today, thanks to progressive skin-care innovations, the word peel has gained an entirely new meaning. Enter: Alumier MD Glow Peel, a light, brightening, resurfacing solution that improves the signs of aging and hyperpigmentation with little to no downtime.
Glow Peel combines 7% lactic acid, 7% salicylic acid and 7% resorcinol. This creates a multipurpose resurfacing solution effective in minimizing the appearance of fine lines, wrinkles and hyperpigmentation issues like age spots, discoloration and uneven skin tone. This formula exfoliates dead skin cells and stimulates skin renewal. To suit individual needs, Glow Peel can be customized in strength by the number of layers applied.
What is a Chemical Peel?
A chemical peel is a treatment used to improve skin texture and tone. An acid formula is applied to the skin to lower the pH, which loosens the connections between dead skin cells, inducing exfoliation and stimulating new cell growth. This process causes superficial layers of dead skin to slough off, revealing a smoother and more radiant complexion. Chemical peels can also thicken the epidermis, increase dermal volume and stimulate collagen.
How Do Peels Work?
Chemical peels work by deeply exfoliating the surface layers of skin, forcing your body to quickly replenish it with new cells. When peels are performed regularly, the skin becomes accustomed to this process and begins to rejuvenate itself like younger skin. Peel treatments improve skin texture and firmness, and decreases the appearance of fine lines and wrinkles. Chemical peels also even out skin tone, improve acne-prone skin and reduce pore size appearance.
Leah LaVanway, Medical Esthetician at Essence of L Medi Clinic will complete a thorough skin analysis and recommend an individualized treatment program to address your skin concerns. She will also create a personalized skincare program that combines professional treatments with home care products as they work synergistically to improve the health and beauty of your skin. Don't hesitate to book your Glow Peel it's the perfect solution to achieve a skin rejuvenation for all the upcoming holiday festivities!
Written by Leah LaVanway