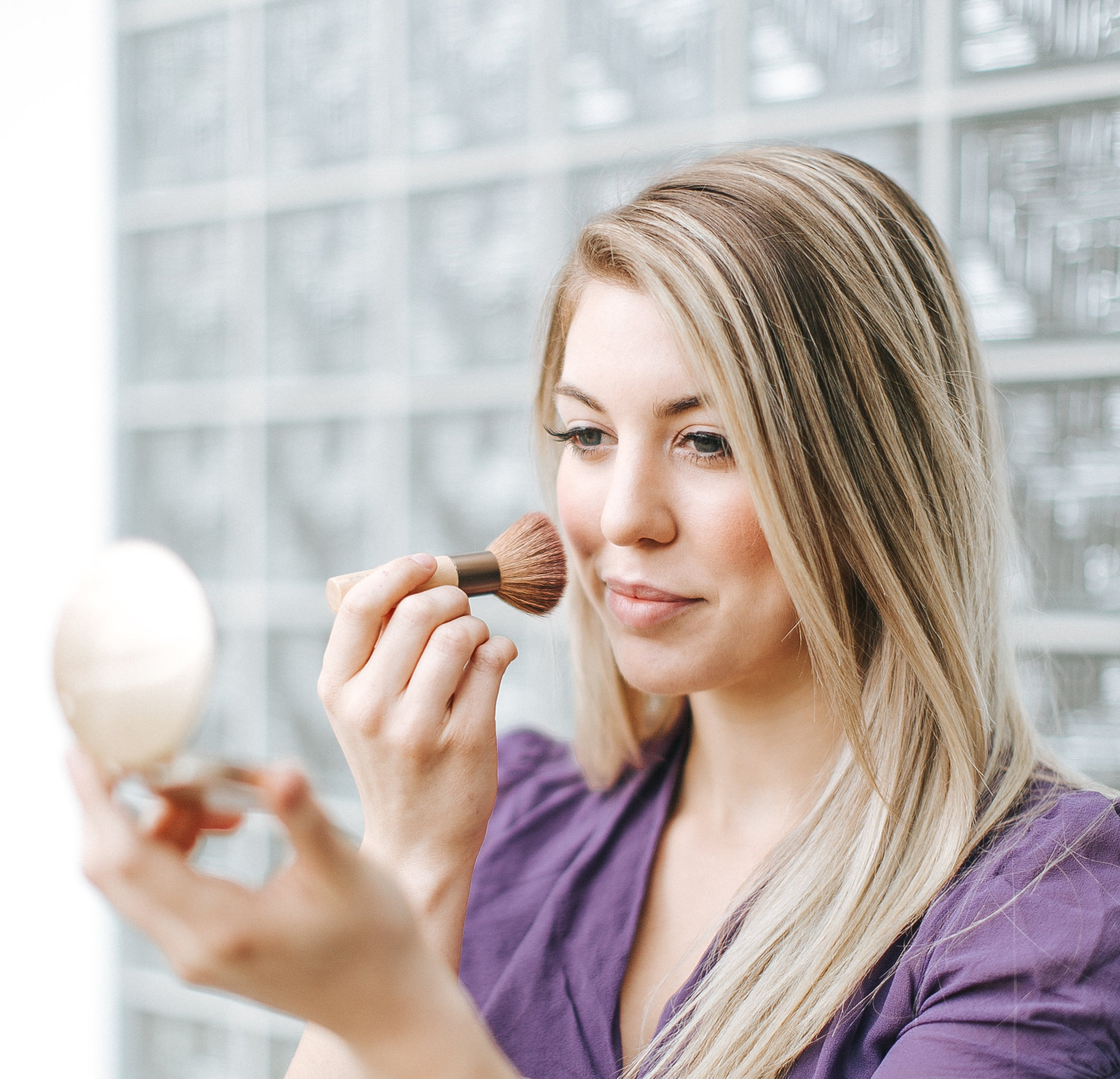 Mineral Makeup – A Quick How-to Guide
For women (or men) who are new to the world of mineral makeup – welcome! It is important to understand the basics of application as it is not as simple as caking the product on your face. Consider this simple how-to guide for first and future applications.
Moisturize – Yes, it is important! If your skin is too dry, the natural minerals in the makeup are not going to adhere to the skin properly. What's the end result? An appearance of powder sticking to the face, which may not be that attractive. Apply serums and moisturizer to your face and let it absorb for 5 minutes or so. Trial and error is key, but after a few applications you'll start to see and feel the difference.
Sun protection – SPF equates to age-prevention over time. I always preach to use sunblock every day, even on the cloudy days! The UV rays are always there so getting into a daily routine is paramount to healthy skin. Sunblock is the last product you want to apply in your skincare routine before you start your makeup application.
Mineral foundation – Pick your poison (so to speak). Is loose, pressed, liquid, or bb cream the right option for your skin type? From matte to dewy, our mineral foundations offer the most variety. Mineral foundations give a smooth look and finish, so this may be your best option for application (BB creams typically fall into the liquid category as well).
The Amazing Base Loose powder is a foundation that offers light to medium coverage for normal to dry skin types. Available in cool, warm, and neutral shades, this weightless, oil free, micronized mineral option also offers SPF 20 UVA/UVB coverage. A foundation that not only acts as a great powder base but also as concealer! With a soft focus dewy effect it helps to diffuse redness and the appearance of fine lines and pores.
The Pure Pressed powder is slightly more sheer and mattifying than the loose powders and is ideal for normal to oily skin types. Also made from micronized minerals, this chemical free foundation is oil free and weightless. When set with one of the three setting sprays this foundation will be water resistant for up to 40 minutes in moving water. The pressed base also offers the same SPF 20 UVA/UVA protection. Enriched with potent antioxidants such a Pomegranate and Pine Bark extract that aid in minimizing UV damage.

Skin type spray – Hydration spray selection is the final step in the application process. Is pommist right for you? How about D2O? Is balanced hydration what you need? Jane Iredale Pommist Hydration Spray offers the benefit of pomegranate and white tea extract, antioxidant protection, and helps set minerals for a even hydrating effect. It is ideal for all skin types, so it is naturally one of the most chosen hydrating sprays. For plump skin cells, Jane Iredale D2O Hydration Spray is your go-to hydrating spritz. Antiseptic properties help soothe the skin, and is ideal for normal to dry skin types. For higher oil production, or extremely oily skin, the third option (Jane Iredale Balance Hydration Spray) is the way to go. Grapefruit and orange peel extracts help eliminate oils, and provide a mattifying application of makeup.
Build your coverage – Now that you have set your base, your skin is even and balanced and now you want to take your look to the next level. Mineral makeup isn't nearly as prominent, or visible as oil based products. The second application is going to even out rough patches, discolorations, and help smooth the appearance to add definition and texture to your skin, contour lines, and add detail where desired. You can even enhance certain attributes you really want to pop or conceal.
Bronze, blush, spray – Looking to see that rosy glow? This is where your bronzer or blush comes into play. This is going to depend on the appearance and occasion, as well as the overall look you are going for. With bronzer, expect a more luminous glow and finish. If you use a blush, you will have that rosy appearance without any added effort. When applying blush, do so in a small circular motion on the apples of your cheeks to ensure even application and finish. When applying a bronzer, make a big C from the center of your hair line to the back of your cheek bone and leave room on your cheeks for the blush colour. Don't get lazy when blending the two, as sometimes it will end up looking muddy!
Mineral makeup is the healthier option and provides natural minerals, antioxidants and anti-inflammatories with no fillers for optimal skin health while also allowing you to still have that unique finish and appearance you may find with traditional oil based makeups. However, for even texture, finish, and overall appearance, proper application is key. Before dabbing it on, or simply applying it with a brush, these are a few steps, tips, and tricks to consider, for even, elegant, fine looking finishes with your mineral makeup product.