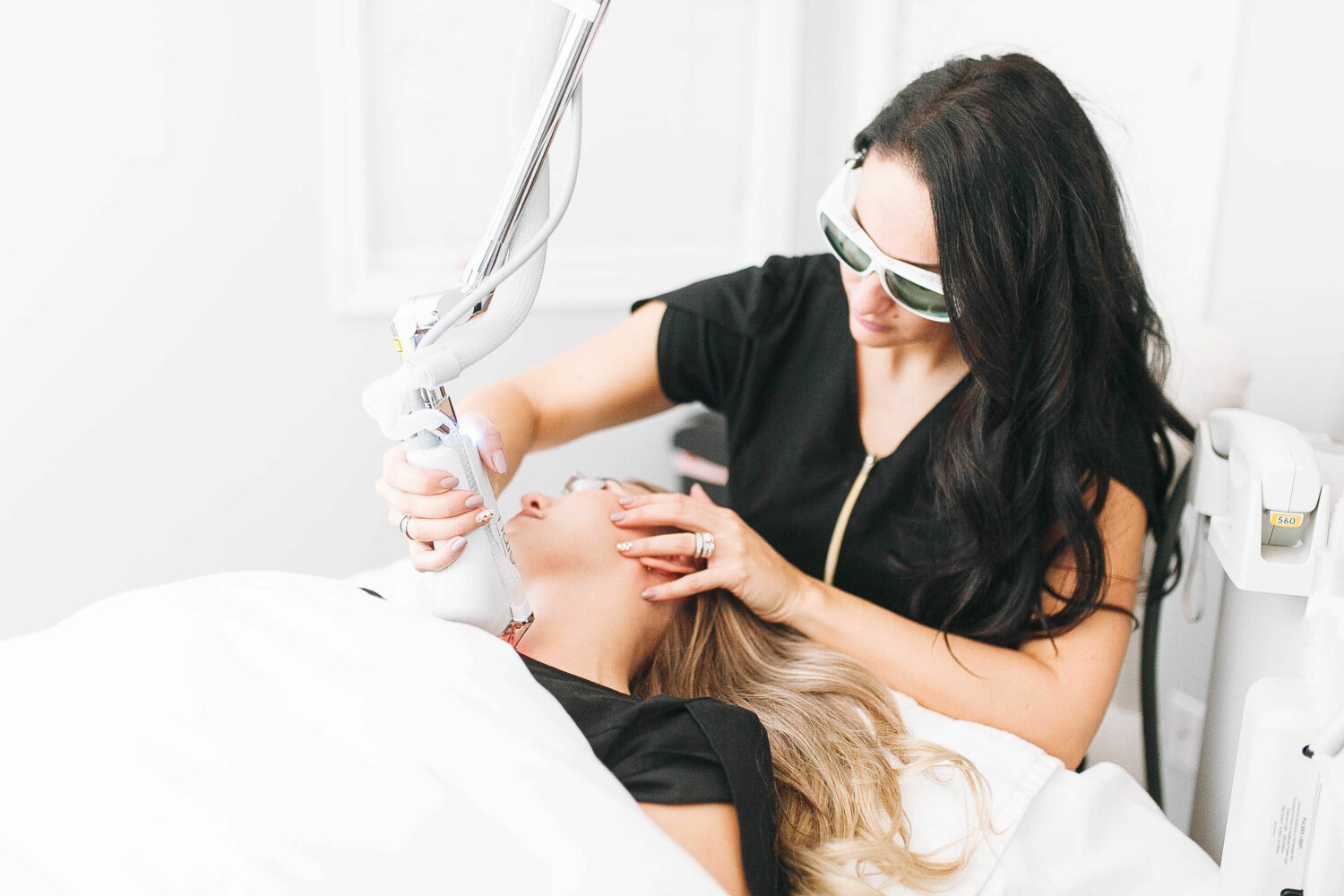 Leah and Tracey Review: The Halo Fractional Laser
With so much technical wording surrounding the HALO fractional laser, we wanted to take some time to hear what Leah and Tracey REALLY think. The lovely ladies at Essence of L have had plenty of hands-on time and personal experience to get to know the laser and what it can do, giving them lots of insight into how the process works, feels, honestly looks during the post treatment days and what real outcomes you can achieve!
So what's so exciting about the Halo? "It's the first hybrid skincare laser," they say. In other words, it's a totally brand-new piece of technology that's quite different from other things we've seen before. The "hybrid" in HALO refers to the laser's dual design. It combines both "ablative" and "non-ablative" treatment to deliver the best of both worlds. On their own, both are totally effective, but when they are combined they are even more effective.The two technologies used in the laser allow it to work on two fronts. The ablative side vaporizes damaged tissue, causing your body to replace it with fresh new cells, while the non-ablative side coagulates cells and prompts a wound- healing response. The results are terrific: Leah tested the protocol on her melasma and has been totally thrilled with how even her skin tone is after the three treatments. Each consecutive treatment yields a different response depending on what level of the skin you are working in.
HALO doesn't just help even out skin tone. It can help smooth out skin texture, make your pores appear smaller, reverse sun damage, and more. Of course, it's killer with discoloration and brown spots, too. Most importantly, the mechanism the laser uses prevents your body from accidentally overcorrecting.With the intensity of this laser, and the vast corrections it can target does it hurt? Leah feels like the discomfort level is between a 3-5 on a scale of 0-10. Before the laser is used, a special numbing cream is applied to all of the areas that will be worked on. The treatment itself can be a bit uncomfortable in some areas, but it's definitely a discomfort you can live with for a few minutes. We break the face down into 5 sections and treat them individually. After each section is completed, we apply ice gause and ice packs to immediately start bringing down the heat.
In this case, "a few" means "about twenty minutes. Extensive work can take up to an hour, when including additional zones ie. chest, neck, hands  but most people will be in and out in two hours- one hour for numbing, 30 minutes for treating and 30 minutes of cool down.
After the treatment, there is a bit of "downtime," which is a fancy word for recovery. Mild procedures typically will give you less than a week of mild redness and swelling. If you opt for serious work, expect more noticeable symptoms and a bit of peeling that can last for up to seven days. This doesn't mean you will be bedridden! You can go back to work or hang out around town, although you should be extra careful to avoid sunlight. Leah even showed off special
Blue Stone sun shield
that she recommends to patients who need to spend time outdoors in the days after the procedure.
One trick — consider scheduling your treatment on a Friday or during a long weekend. It's much easier to live with a rosy, puffy face when you don't have anywhere to be. Different people have different levels of comfort, so the fact that I might be fine heading in to work with a face that looks oddly sunburnt doesn't mean that you have to be comfortable with it, too.
You will start to notice some results as soon as your face returns to "normal" after the downtime, but the laser's magic can take a little while to take effect. The experts claim that you will experience something called "deep collagen stimulation" for several months after each procedure, which can have a profound effect on how your skin ages. The magic number here seems to be two: with a single pair of procedures over a twelve-month period, you will see an improvement in your skin that can last a lifetime. If you are dealing with Melasma, we recommend a series of 3-4 as we need to treat your skin at a slower rate to lift pigment from multiple layers of the skin.
So where can you get this treatment? Essence of L, of course! Leah and Tracey are more than happy to talk your ear off and answer any questions or concerns you have about this fancy new laser. The results look amazing so far. Head on in or give them a call to find out more and schedule your appointment today!
Written by Leah LaVanway