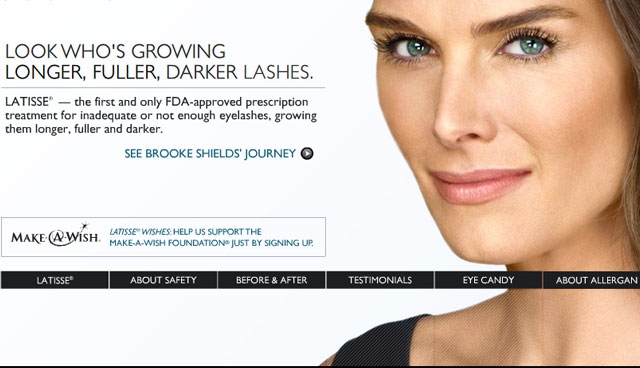 Is Latisse Lacking Important Safety Statistics?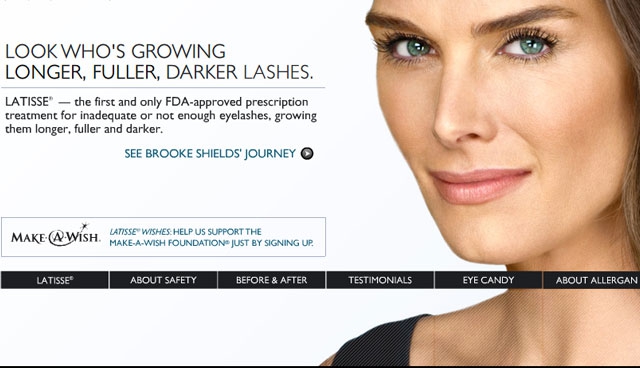 By now, you are probably pretty familiar with this ad, Brooke Shields Latisse commercial. She talks minimally about the possible-side-effects of using this prescription grade eyelash treatment. The FDA, however, feels that the safety information that appears on the prescription eyelash-enhancer's corresponding website is not enough to adequately educate consumers.
The FDA's Division of Drug Marketing, Advertising, and Communications (DDMAC) issued a letter to Allergan, the pharmaceutical company behind Latisse, citing the "stark contrast" between latisse.com's efficacy statistics and the risk information. At the time of the letters release, the organization declared that the warning display "fails to present risk information with a prominence and readability reasonably comparable with the presentation of information relating to the effectiveness of the drug."
Latisse, which contains a prostaglandin (fatty acid derivative) called bimatoprost to grow longer and darker eyelashes, can cause hair growth outside the intended treatment area and bacterial contamination-two risks that the FDA says are omitted or minimized on the site. Additionally, the FDA has accused Allergan of down playing the potential for infection and increased iris pigment, as well as providing misleading information about allergic reactions.
Essence Of L Medi Spa wants to know if you have tried Latisse…. and what are your thoughts on the product? Were you completely familiar with the risks and side effects before using it? Have your results been worth the possible side effects?