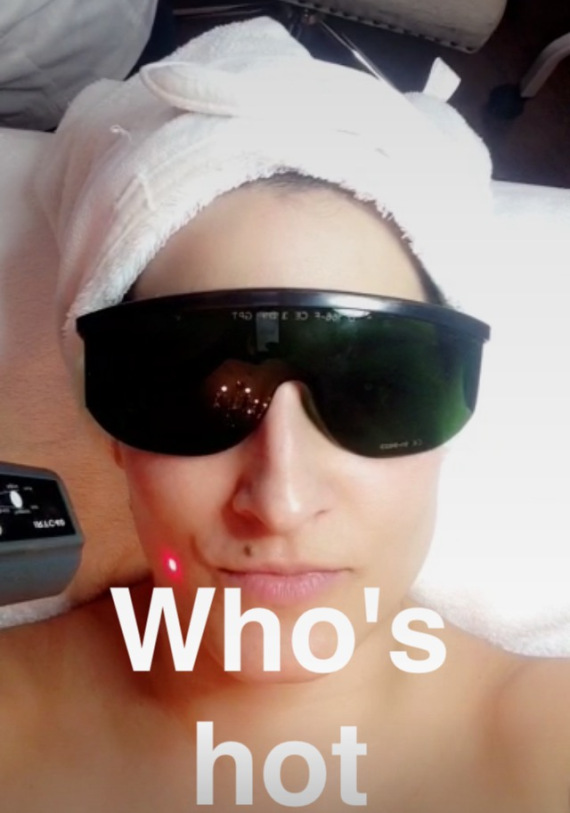 Client Love: Testimonial from Beauty Buzz 411
For several months I have been going to Essence Of L Medi Spa & Laser Clinic where Leah has been taking care of my skin. With each treatment we always include the "Girls" as your chest is just as important as the skin on your face. I posted recently on some news that I have entered a fitness contest. I am very excited to announce that I have entered Bodybuilding.com's #250Kchallengewhere I will compete in a 12 week challenge and do the whole thing VEGAN! I have done other competitions before and with any major weight loss the elasticity in your skin can be effected. With that said I will be switching up my treatments at EOL and focusing on Skin Tightening as well as taking a Collagen and Silica supplement.
I got my first BBL Skintyte treatment today to kick things off and was so blown away. Honestly I was scared to get it as people have mentioned from getting a similar treatment at other places that it was really hot and burned. Well…… not with Essence of L!
Leah is so incredibly knowledgeable that she uses a thermometer throughout the whole treatment to make sure the skin gradually gets heated from the laser and stays heated in a controlled setting. The treatment was the most relaxing I have ever had. This is going to be a perfect addition during my competition as the treatments are every 4 weeks! I will be documenting my journey and announcing a few key players that will be helping me through this life changing adventure. I am excited to go a little MIA for a while and reveal the new me come April 2nd
Essence Of L Medi Spa & Laser Clinic is located in White Rock – So for all of you in the Fraser Valley and Vancouver Area looking for an amazing place to get some Skin Love. Check them out. And because I believe so much in them, you can get $50 towards your first treatment by mentioning #GLOW when you call to book.
Much Love, Beauty Buzz 411