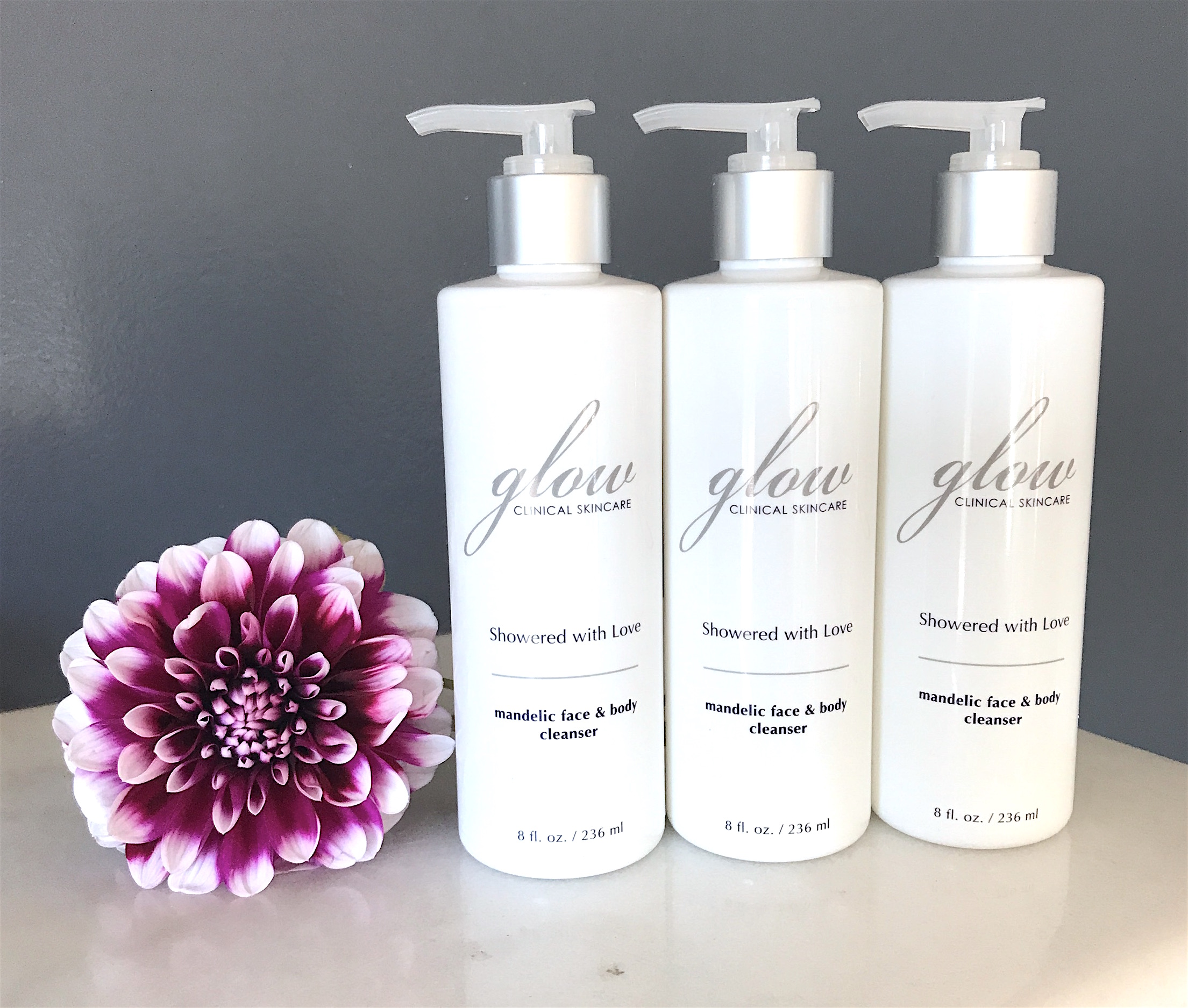 Check Out Our New Showered With Love Cleanser!
Mandelic acid is a skin care superstar. It's a particularly gentle alpha-hydroxy acid that is used as an exfoliant. Unlike other AHAs, mandelic acid has a big molecular structure. This keeps it from penetrating your skin as quickly, which helps it get along better with your body. In addition to its exfoliating properties, mandelic acid helps strengthen collagen in your skin and can even reduce sebum production. These traits make it a great choice for an active ingredient in skin care products.
Essence of L is proud to introduce a new face and body cleanser called "Showered With Love." This carefully formulated product uses mandelic acid, grape extract, and green tea extract in order to gently improve the look and health of your skin. Designed for acne prone clients suffering with inflamed face and body acne. To our lovely clients who love to workout and preform high intensity training, such as spin classes, HIIT classes, cross fit, etc., this product is made for you. Showered With Love is non-comedogenic, free of parabens and sulfates, and totally ethical. It was engineered without any animal testing whatsoever.
Irritating, or comedogenic body washes and shampoos are a major cause of breakouts in many adults. Showered With Love has the opposite effect. It provides a gentle, exfoliating cleanse that helps your body shed dead skin cells and keep your pores clear. Exfoliating regularly can help reduce wrinkles and signs of aging while revealing a layer of fresh, glowing live skin cells. Showered With Love can help you achieve an even complexion and smooth out any rough spots on your face, and body.
If your body scrub isn't leaving you with a vibrant glow, consider switching to Showered With Love. Even if you are not looking for something to use in the shower, it's still a good idea to incorporate this product into your daily skin-care routine. A gentle, mandelic acid rinse, every once in a while might be just the thing to keep your face clear and youthful.
Come by Essence of L to check out this hot new product and get more personalized recommendations from our staff. Even if Showered With Love doesn't fit your skin needs, we carry many other safe and ethically produced products that can help keep your skin beautiful and acne-free.
Written by Leah LaVanway