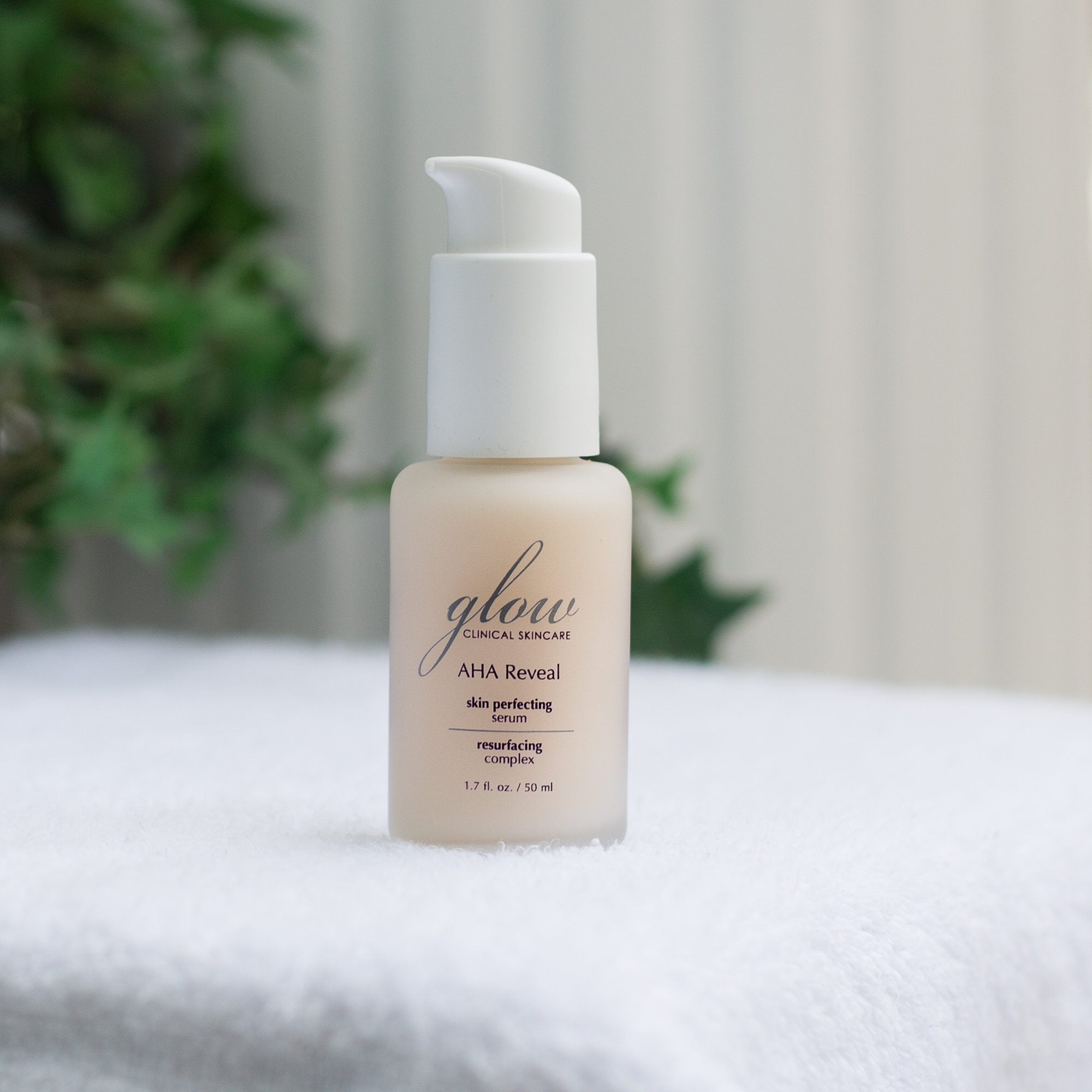 AHA Reveal: The Best Product for Glowing Skin
Reduce the effect of imperfections on your skin in a matter of days with this unique blend of plant extracts and the best AHA formula available on the market.
In this product AHA Reveal – now available in our Glow online store – AHAminoPlex and Lactic acid work together to give your skin a 10% AHA level at the optimum pH level of 3.5, the very same level set by the FDA for the best results when using AHA for your skin.
White Tea and Sea Whip are included in the ingredients as well as Guarana, Kola and Mate, all extracts which are clinically proven to minimize AHA's main drawback – irritation. All of these amazing ingredients work together to keep your skin from getting sore and inflamed.
AHA Reveal can be used on all skin types even if you have sensitivity to other products that contain glycolic acid. In developing this amazing skin-care product in was important to put the safety of our customers first, so it is free from any sulfates, phthalates, parabens, or colorants and perhaps most importantly, it is animal cruelty free.
You can use AHA Reveal to treat a variety of skin conditions such as sun-damage, aging, scaly skin and clogged pores. This groundbreaking serum is long lasting thanks to its combination of glycolic acid, lactic acids and hydrators to keep it stable and protected against bacterial contamination.
Directions for Use
For the best results with this brilliant serum, apply it to dry and clean skin in the morning or evening, every day. Make sure to keep it away from your eyes and apply a moisturizer afterwards. If you plan on going out in the sun, add a touch of SPF 30+ to protect yourself from UV radiation.
Please note that while using this product you are likely to feel a tingly, or burning sensation in the first few days as it works on your skin. Although this is normal, you can prevent by drying your skin completely before applying.
Ingredients
Water, Glycolic acid (AHA), lactic acid, sodium lactate, pentylene glycol, phenyl trimethicone, camelia sinensis leaf extract, sea whip extract, kola extract, mate extract, guarana extract, arginine, PEG-8/SMDI copolymer (AHA delivery vehicle), cyclopentasiloxane (breathable silicone), butylene glycol, dimethiconol, phospholipids (moisturizing lipid), hydroxyethylcellulose, xanthan gum, montmorillonite (gelling agent).
Written by Leah LaVanway