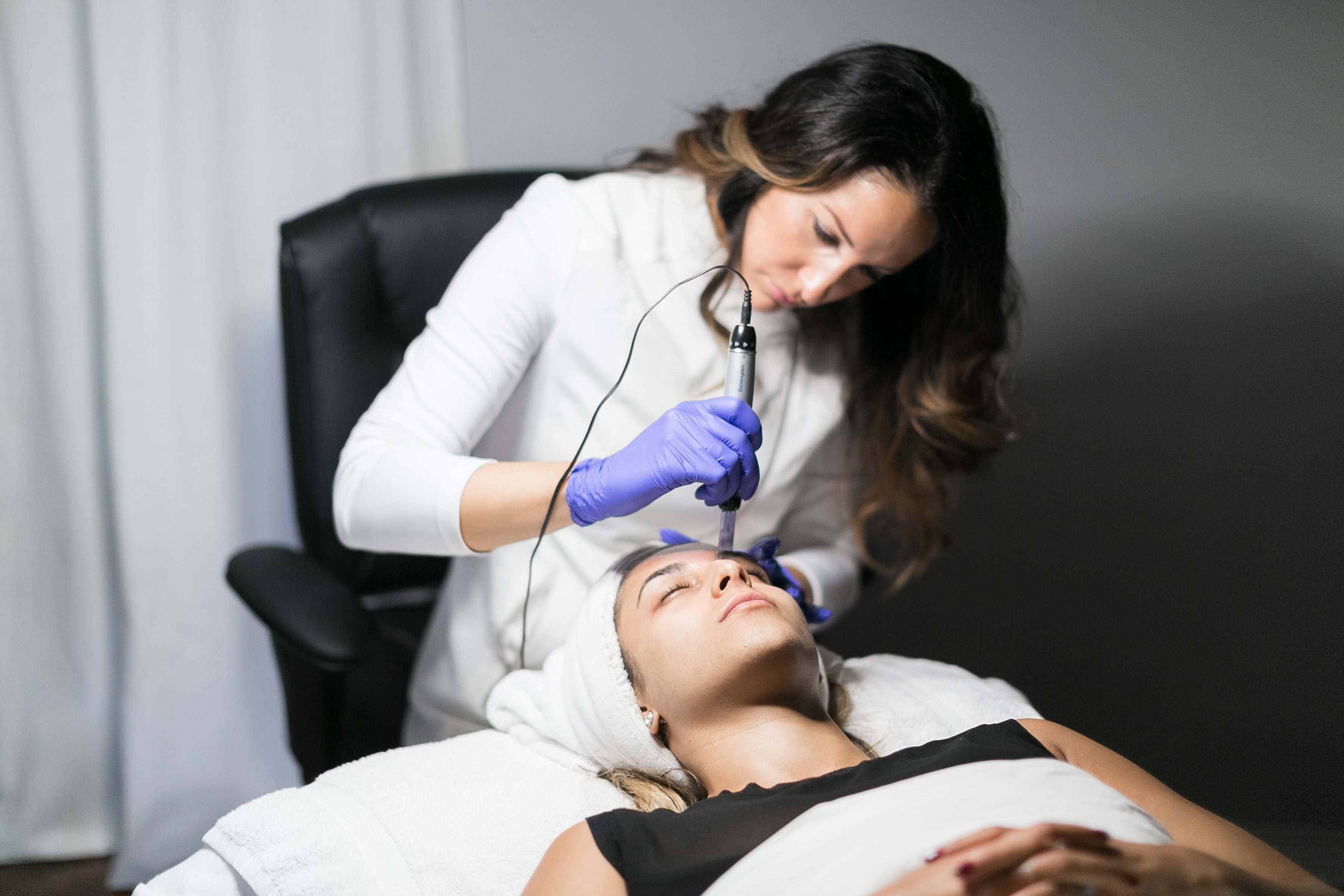 7 Things You Need To Know about Microneedling
One of the fastest growing trends in cosmetic medicine is microneedling also known as Collagen Induction Therapy (CIT). This skin treatment is a minimally invasive skin rejuvenation procedure where needles puncture the skin to create a controlled skin injury.
The dermal rolling process performed in microneedling penetrates and stimulates the skin, rebuilds collagen, and creates "microchannels" for better topical product (i.e., serum) absorption. Needling causes a slight, superficial injury to the skin's epidermis, and the body responds by producing collagen.
There is a reason why Molly Sims, Linda Evangelista and Gwyneth Paltrow indulge in microneedling. It has some amazing results and benefits.
Let's take a closer look.
#1. Reduces Fine Lines and Wrinkles
Thinning skin, sun damage and facial wrinkles are caused by the loss of elastin and collagen. The good news is microneedling helps produce natural elastin and collagen and can significantly reduce wrinkles and fine lines.
#2. Treats Premature Skin Aging
Premature skin aging can be prevented with microneedling similar to treating wrinkles. It triggers elastin and collagen growth while also enhancing the effectiveness of any topical anti-aging product by improving its absorption and concentration properties on the skin.
#3. Scar Treatment
Microneedling has even been proven to reduce the appearance of scarring. Scars from acne, surgical procedures and even stretch marks can be treated easily with microneedling as scar tissue is made up of an unusual formation of collagen. Microneedling breaks up old scar tissue and stimulates the production of collagen and elastin to produce healthy skin.
#4. Reduces Stretch Marks
Stretch marks are more difficult to treat than regular scars. Fortunately, microneedling is able to break down stretch mark tissues triggering collagen growth. Eventually, this reduces, or fades the stretch marks. Keep in mind that treating stretch marks will require more treatments than treating normal scars.
#5. Treatment of Hyperpigmentation
Hyperpigmentation occurs due to an atypical melanin production. More common in people with a darker complexion, it is usually caused by wounds, acne and prolonged exposure to the sun. Unlike chemical peels, laser or microdermabrasion, microneedling is safe for people with a darker skin tone. There is no loss of skin pigment.
#6. Decreases Age Spots
Very similar to treating hyperpigmentation, microneedling works the same way to reduce age spots. You will notice improved skin texture, more even skin tone and an overall brightness to your skin.
#7. Improves Appearance of Rosacea
Rosacea is a skin disorder that creates facial redness leading to the breakdown of collagen. The most common rosacea triggers include alcohol, hot or spicy foods, emotional stress, and heat. Although there's no cure for rosacea, microneedling treatments can control and reduce the signs and symptoms.
Depending on why you are considering microneedling, the size of the needles, number of treatments, and cost may vary. At Essence of L Medi Spa, medical esthetician Leah LaVanway will be able to provide you guidance around microneedling treatments. She is a certified medical esthetician with 10 years experience in the industry. If you book a Dermapen treatment this month you will receive a EltaMD sunblock of your choice absolutely free!