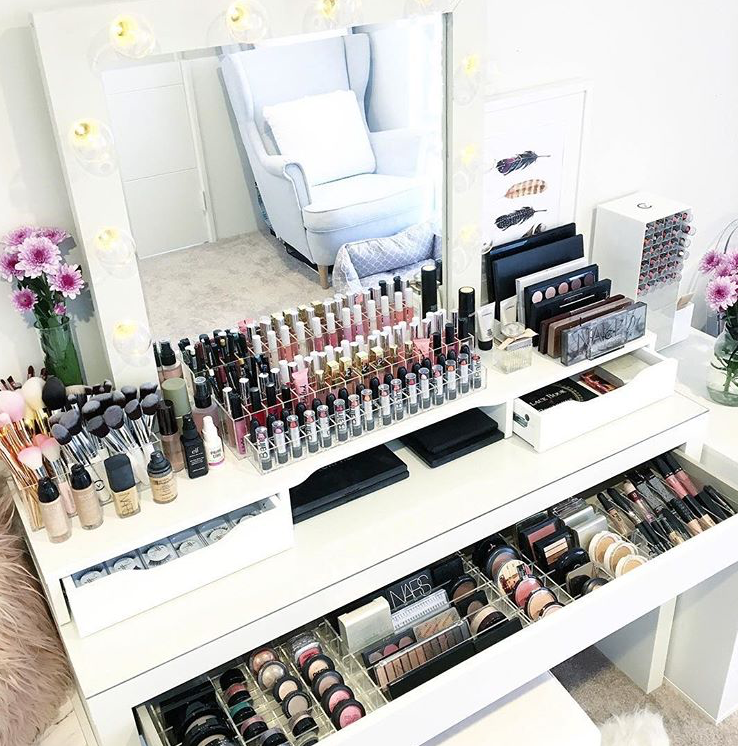 6 Genius Ways to Store Your Makeup
Your makeup is a vital step to looking fabulous throughout the day therefore the manner in which you store your beauty products should match how beautiful they will make you look.
Bathroom counters tend to overflow with all of the beauty products that you have collected. They all have their uses and they cost money to buy, so throwing them out is not an option. You don't want to look like a hoarder and a messy counter makes for a messy mind and you want your inner state of mind to match your outer beauty. So take a few minutes and learn how to organize your beauty products. The best place to start is by organizing them according to their function, so let's begin!
Nail Polish
Nail polish is one the best beauty products in the world. It lasts long, it's waterproof and it comes in those cute little bottles that you can place anywhere discretely. What you really want for managing your nail polish collection is a two-tier container, which adds to the decor of your dressing room. Alternatively you can find a cute cookie jar to stash them away in.
Electronic Hair Tools
These are usually the hardest to stow away because they are so large and have wires running all over them. The best thing that you can do for keeping them tidy is to find a large tray to keep them in with the wires wound tight. If you're feeling crafty then you can stick adhesive hooks on the inside of your cabinet and hang them. Out of sight, but just in reach for when they are needed.
Ice-Cube Trays for the Eye-Shadow
Ice cube trays are perfect for keeping your eye shadow in one place. Since the trays have rows you can organize them according to shade, brand, or even a mixture of both. Keeping them organized in the tray will help you to see all of the colors at once which makes selecting the right one for the day even easier.
Random Makeup
There are few pieces of makeup that are in a class of their own. A wise way to organize them would be according to the size and shape of their containers. Take all of your thin brushes and put them in an old sunglasses case that you don't use anymore and line up all of your liner pencils and mascara in an old pencil box.
Jars of Makeup Brushes
Candleholders and mason jars are perfect for holding your makeup brushes. They hold the brushes upright and the candleholders have the added benefit of being beautiful to look at.
Lip Balms and Lipstick
These are the easiest products to stow away because no matter what the brand or color, they all come in similar-shaped boxes. The problem is that women like to have a lot of them and more than one of us has a drawer that is filled to the brim with forgotten lip products. You can pick the ones that you use regularly and store in them in clear desk organizers so that you can see what's in there while they are neatly tucked away.
Written by: Leah LaVanway