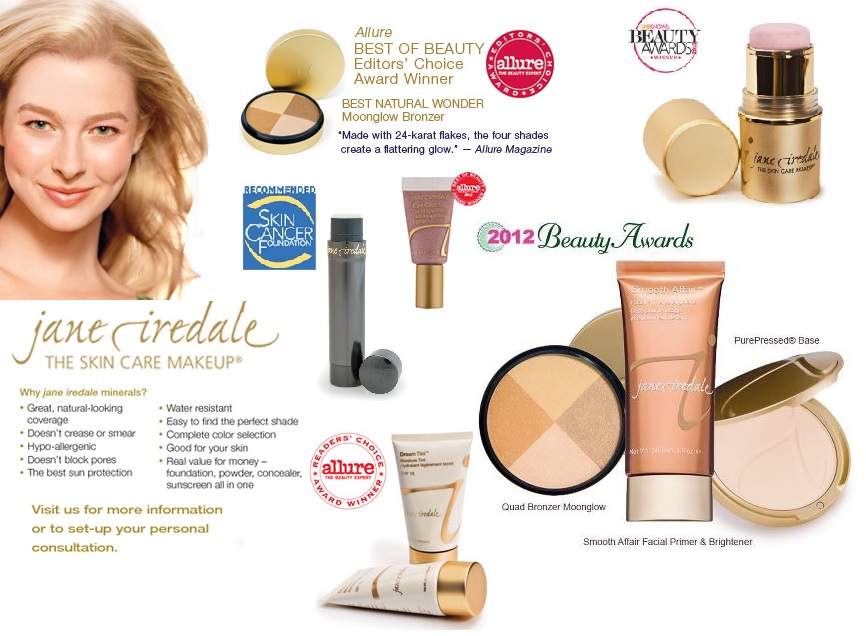 Jane Iredale Mineral Makeup……. The SkinCare Makeup
Why Choose Jane Iredale Makeup OVER conventional makeup?
Jane Iredale's Skin Care Makeup combines the most up-to-date colours with skin-care benefits that conventional makeup can only envy. Here's why it is so special:
Non-comedogenic, will not block pores.
Virtually no allergy risk. All products have been sensitivity tested.
Broad-spectrum UVB and UVA protection – up to SPF 20.
Anti-inflammatory, helps to calm and soothe irritated skin.
Very water resistant rating by an approved FDA lab.
Complete coverage for skin conditions like acne, rosacea and redness following treatments like chemical peels and laser resurfacing.
Contains no talc, parabens, FD&C Dyes or synthetic preservatives
Composed of inert minerals that cannot support bacteria.
Environmentally aware.
No products have been tested on animals
Mineral makeup stays on longer – doesn't crease or smear easily.
Known as The Skin Care Makeup, the Jane Iredale line is so safe and beneficial to use that it is recommended by Plastic Surgeons and Dermatologists throughout the world.
Jane's line is a highly-sophisticated blend of minerals and pigments that are micro-pulverized, using proprietary technology and processes to form microscopic flat crystals. These crystals overlap each other on the skin to form a filter that allows the skin to breathe and function normally while still protecting it from air-borne pollutants. The staying power of the minerals is so great that they rarely need a touch-up during the day. Also, because these silky-feeling powders are water resistant, they won't crease or smear even during the most strenuous exercise.
These state-of-the-art minerals are available in so many shades that there's one for every complexion no matter what the ethnicity.
Application Tips for applying Jane Iredale Mineral Makeup
Make sure your moisturizer has been completely absorbed by the skin before applying mineral makeup.
One of the biggest differences in terms of application, is that you need much less mineral makeup to get the same coverage results as regular makeup.
New brushes should always be cleansed prior to use. This will remove any chemical residue left behind on the hair from the sanitizing process, and prevent any possible sensitivity
Jane Iredale Loose Powders
Use a chisel brush – the minerals should cling to the bristles all the way around the brush and not just on the ends.
Apply the minerals in thin layers using downward strokes. If you've put on too much, use a flocked sponge to remove excess.
Spot with the sponge if you need additional coverage in areas. You will achieve a smooth, sheer, flawless finish that transfers far less than normal makeup.
Jane Iredale Pressed Powders We recommend using a special brush for pressed powders made from squirrel and pony for the softest feel and the most even coverage. (like the Jane Iredale Handi Brush) -Lightly brush over the pressed powders and apply in downward strokes.
Pressed powders are more matte than the loose, which is especially useful for those with oily skins.
Jane Iredale Liquid Minerals
Liquid Minerals can be worn alone or with our mineral powders on top.
You will find that Liquid Minerals adapts to individual skin tones.
Can apply with Fingers, Cosmetic Sponge or Brushes
Fingers:  When applying it on yourself, use both hands. Let it set and then apply another layer if needed. You will have time before it sets. Once set, you may apply another layer if needed. Brush mineral powders on top for more coverage. You can use Liquid Minerals around the eyes as a concealer. It will also minimize fine lines. Use it on eyelids, too, for the perfect base for eye shadows.
Cosmetic Sponge or Brush: Pump mousse onto a spatula or back of hand and pick up with sponge or brush. A dry sponge will give more coverage, a wet one more sheer coverage. Apply it to one area of the face at a time.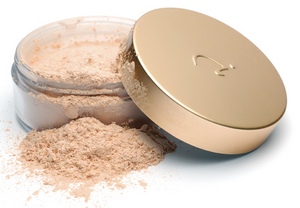 Come in for a complimentary consultation and see how medical grade makeup can improve the integrity of your skin.  Call us at 604.619.4959!
If you are looking for great ways to have clean skin then take a look at the Clarisonic Skin Care System!
The first time I went to see Leah from Essence of L was over a year ago as I received a few gift cards from family members for Christmas. She offers a complimentary 30 minute consultation to first time clients, but we ended up talking for over an hour. She was very friendly, and understanding when I took the conversation off topic by accident. She has a lot of patience, and an extensive knowledge of her field.

At the time I had had two large bumps on my cheekbone, which had been there for about 8 months. She extracted them and I had a microdermabrasion facial which refined a lot of the fine bumps all over my face. She made several lifestyle recommendations to help clear up my skin, and gave me a skin care regime that would help give me the "porcelain skin" (I'm Portuguese) I was after.

The skin care helped LOADS. She then recommended I try at photo facial to help get rid of some of the dark spots and rosacea I had on my face. The treatment was mild, and made a huge difference in the clarity and also the feel of my skin. She also suggested I try her laser hair removal, as I had been getting a number of in grown hairs from waxing. She had previously sold me a serum that would help bring the hairs to the surface but told me that the laser hair removal would probably be a better option. We tried it and 70% of my hair was gone after the first treatment!!! I couldn't believe it!

Leah also suggested I switch my makeup over to the line she carries- Jane Iredale. I had been using drug store brands like Lancome, Estee Lauder, Mac, Gosh, and Smashbox. As soon as I switched I noticed a difference! The product is so LIGHT and airy and I can barely feel it on my skin… I'm a no-fuss kind of girl.

Recently, people have been coming up to me and reaching out over social media exclaiming that my skin looks "AMAZING" and that I look like Im glowing. I could not be happier with my choice to go with Essence of L, and would recommend it to everyone! She really goes the extra mile, giving me a flower each time I come in. Little things like that really make a difference!