Our Acne Treatment Philosophy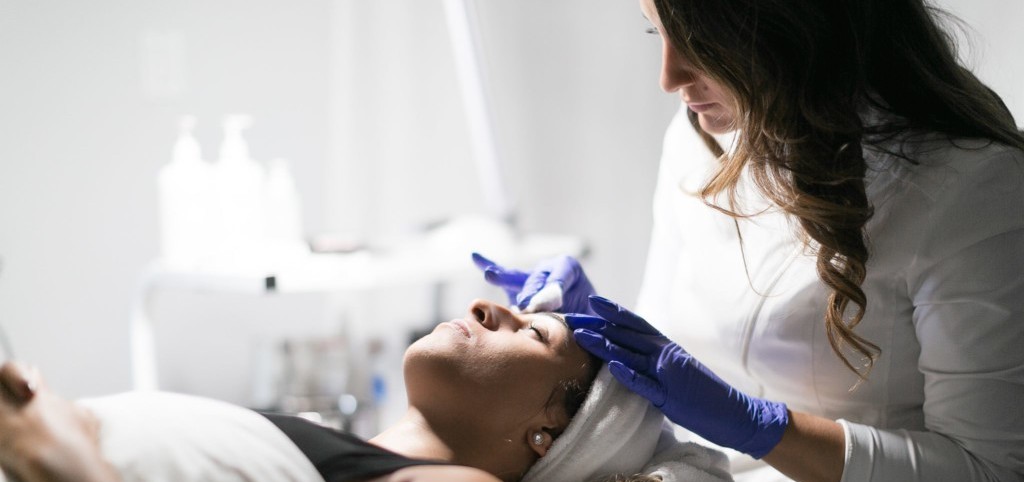 Chances are you've dealt with some form of acne in the past or are currently struggling with your acne treatment. Approximately 85% of the population has shared the experience of looking in the mirror to find that their spots have multiplied over night, or a new angry red bump is staring right back at them.
The truth is no matter the severity of the acne, most of us can relate. At Essence of L, we understand just how debilitating this chronic skin condition can be because we've lived it ourselves. We understand that acne is far beyond a cosmetic concern and know all too well the physical pain it can bring day after day.
More Than A Cosmetic Concern

For many suffers of cystic or severe acne, the effects go beyond skin deep and can even impact important relationships, self-esteem, happiness, performance at work or school, and so much more. When acne progresses and becomes a chronic issue, it can be considered a medical condition. This is why we approach our client's acne treatment with the highest standards of care, utilizing leading medical research and technology in our practice.
Unfortunately there is no one-size-fits-all approach to acne care. What has worked for your friend may not be the answer for you. Products that you see in magazines or lining drugstore shelves might advertise exactly what you want… 'perfect skin', 'overnight transformation', or 'ten years younger', but that doesn't usually mean that's what you'll get.
The truth is, many of these 'miracle' products are full of cheap filler ingredients that will clog your pores making your condition worse. What will work are clinical grade products that utilize active and natural ingredients like vitamin A, B, C, E, breakthrough peptide formulations, essential oils, collagen, kojic acid, phytic acid, hyaluronic acids, glycolic or lactic acids, and other alpha hydroxy acids (AHA's). Unfortunately you simply won't find these products in stores on shiny displays.

Personally Customized Acne Treatment
At Essence of L we believe the first step to developing your treatment plan is getting to know you. That's why we schedule a free 60 minute consultation with our Certified Acne Specialist, Leah LaVanway before going any further. Successful acne treatment requires a personalized approach. Your consultation will allow Leah to determine your skin type, acne type, skin concerns or goals, as well as uncover any contributing lifestyle and environmental factors.
Leah takes great pride in her consultations and credits these meetings as one of the most important factors in determining a client's success on their treatment plan. Leah's straightforward and honest approach allows her to obtain not only a thorough understanding of her clients' acne conditions, but to also pinpoint any psychological or emotional triggers that could be negatively impacting progress.
Client Education is Key
A key component of our consultations is client education. We believe that when a client understands not only how their acne is caused, but how the specific treatments, products, and lifestyle habits work together to improve their skin, they are better equipped to achieve success from their treatment plan and maintain healthier skin for life.
After a consultation, Leah will design your customized treatment plan. Since we want this plan to work for you and not against you, we will ask you what your budget is as well as your commitment level. We want to help you achieve results, but we also want this plan to be realistic and align with your life. With these questions answered, Leah will be able to develop a combination of products, dietary recommendations, and/or treatments that will work best for you. If your budget is tight, or you want to start out slow, Leah can find the perfect balance to make you feel comfortable. Our goal is for you to leave feeling confident that you're on the right plan for you.
Results You Can See and Feel
At Essence of L we take pride in results you can feel. There is no greater satisfaction for us than seeing our clients walk through our doors with brighter, clearer skin, but also bigger smiles and boosted confidence. That is the true beauty of the work we do. Our clients continually inspire us to keep learning and evolving, allowing us to offer you the absolute best in acne treatment and skin care in Lower Mainland, B.C.
Acne Treatments We Recommend
100% recommend to everyone! Leah is a kind person who genuinely cares so much about her clients, and she has so much knowledge about skin care. I have dark, oily acne-prone skin with hyper-pigmentation. Before I started going to Leah for treatments, I had breakouts everywhere on my face, with a large portion of them being on my jawline/chin and forehead. I also had DARK hyperpigmentation and it lowered my self-esteem. I wanted a change for my skin because it was not like this a year ago. After speaking to Leah during my consultation, I decided to choose her medi-spa for treatments, and I do not regret this decision at all! After my first hydra-facial, my skin improved; my breakouts dramatically reduced super fast and my skin was becoming brighter than before. I thought I would see results in the next few months, but I noticed these results right away, and my friends and family did as well. I've been going to Leah for almost 3-4 months now; my confidence has increased as I am able to walk out into the public with my natural skin because it looks a lot better than it did before I received my treatments.

Thank you, Leah!
You will be super satisfied with the services here!